Patio Doors
Literally walk right in to one of the best home improvement investments you'll ever make — choosing your very own contemporary Patio Door! Sliding Patio Doors add pizzazz to patios, decks and your favorite outdoor spaces. They are very convenient for outdoor entertaining and make for great curb appeal. Patio doors can match your style just as easily as vinyl replacement windows, and they are custom made to specifically fit your home and lifestyle.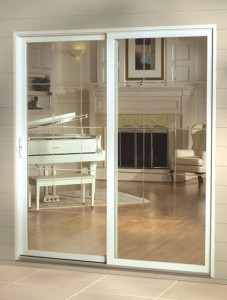 Peace of mind is high on your priority list, and we design our patio doors to be safe and secure. Security will never be an issue with your custom-made patio doors equipped with a keyed lockset a thumb-turn dead bolt and a kick-lock. These 3 separate locking points ensure the security of your family, and give you daily peace-of-mind.
We took our Patio Doors design a step further in our Signature Series. It's constructed with a heavy-duty main frame and superior strength fully welded and reinforced sash. The roller system is non-corrosive and made from a technologically advanced composite material.
Add immediate functionality and value to your home with a custom patio door Window Depot Dayton! Give us a call or shoot over a free quote form today!
Ron and his company are true professionals !!! I ordered new custom windows for my entire house which is located in Trotwood Ohio. The windows were scheduled to be installed on May 30, and 31, 2019. On Monday May 27, 2019 the devastation of the tornado left us without a home. Our home of 26 plus years was totally destroyed. After explaining our situation to Ron at Window Depot: he expressed sincere concern and immediately let us out of our contractual obligation with Window Depot. As a consumer we have a lot of choices when its comes to companies that sell and install windows. We chose Window Depot because of their expertise and professionalism. As a United States Air Force veteran, I highly recommend Ron at window depot for your new windows needs. Window Depot also gives veterans a nice discount. Thanks again to Ron and his staff at Window depot

Peter Simmons


June 30, 2019

Prompt, great communication. Worked efficiently. Kept work area clean. Installation looks great. I couldn't be happier. The guys were kind, courteous and definitely knew what they were doing.

Patty Schaeffer


March 13, 2019

Ron was fast, efficient, and responsive! If you need your windows fixed or replaced, look no farther. He was able to replace our window glass in the bedroom and screens all around only a day after receiving it from the local manufacturer. Thank you, well done!

D McCoy


February 27, 2019

Excellent overall experience from start to finish! Michelle has made sure to answer every questions along the way. Ron was very friendly and I felt like I was talking to family when he came out for our walk through. Keith busted his butt to make sure the windows looked good and made sure to inform me how to take care of my windows.

Kyle Bush


February 26, 2019

Ron and is company are top notch. He is EXTREMELY knowledgeable about the industry and won't steer you wrong! He provided me VALUABLE information about my windows and the industry in general. I can't thank him enough.

Earl Marchesi


February 26, 2019